Instructions for Paper Presenters
Projectors/beamers and screens will be available for all presentations. Screen format is 16:9 (if your slides are in 4:3 format it will still work though, see for instance this link.)
Presenters are required to bring (or arrange) their own presentation device (such as a laptop).
Connection is via hdmi, so Mac users, do not forget your hdmi connectors/adaptors.
Quickly check that the device you are using for the presentation works with the projector before the start of the session.
Talks are allocated 25 minutes: 20 minutes for set up and presentation, and 5 minutes for questions.
The above holds for the papers in the main conference sessions and HOP sessions, contact workshop chairs for workshop-specific details.
Instructions for Poster Presenters
The poster session will be held on

Monday July 15, 17:50-20:00 at Panorama Hall (1F).

Hang up your poster during the session the precedes the poster session. Depending the track your poster belongs to, your poster will need to be hang in a certain zone (see below).
Poster boards and thumb tacks or tape will be available.
The usable area of the poster stands is 97x180cm which can safely hold posters of A0 format (which is ca 84x120cm).
Posters will only fit in portrait orientation (vertical) not in landscape (horizontal).

In the following we display the layout of the organization of the posters in the Panorama Hall depending on the tracks. Please do not hang your poster on a random board without checking the zone it should be put.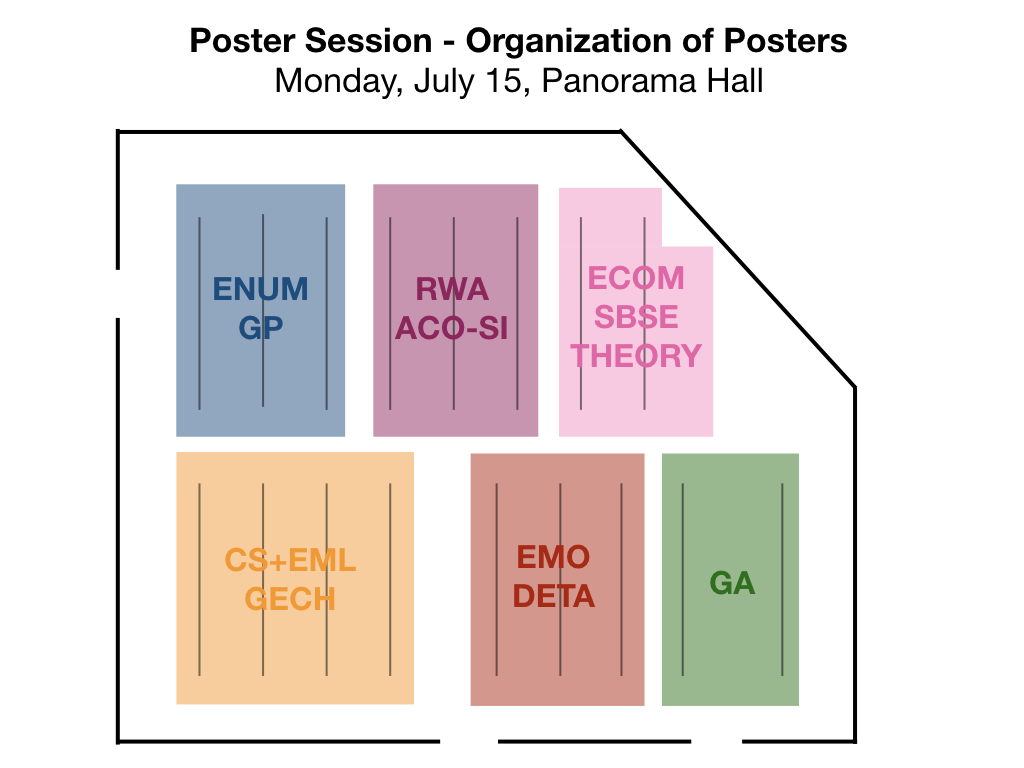 Printing the Posters in Prague
There are numerous opportunities to print the posters in Prague, if you do not want to bring the printed poster with you.
GECCO is not officially connected to any of the copy shops below, all arrangements are up to you. The suggestions below are just for your convenience. Their accessibility, conditions and price varies.
GECCO Local chair has a good personal experience with this copy shop:
BossCan Reprostudio (Contact)
It is situated in the city center, however, using Metro (station Muzeum) and some walk, it is not that far, actually.
Another good option may be Copy General
Again, one stop by Metro (station I.P.Pavlova) and then a short walk.
Other options close to the Prague Congress Center can be find via Google or Yelp.